Events and Exhibitions
Current and upcoming activities at the Bay Head Historical Society
Regular summer hours: Friday thru Monday 1 – 4 pm
The Museum is open to the public, donations are suggested Bay Head Historical Society members – no charge
Painting the Jersey Shore
Sunday, June 4th, 3 to 6 pm
This exhibition will bring attention to an important group of artists who lived and worked in Jersey Shore communities between 1900 and 1960. It will document their achievements and contributions to the cultural heritage of New Jersey and American art. Roy Pedersen of Pedersen Gallery, Lambertville, NJ is the author of Jersey Shore Impressionists – The Fascination of Sun and Sea 1880 -1940. Books will be available at the museum.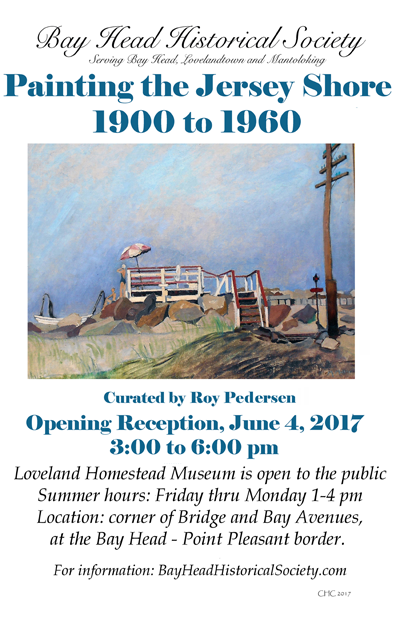 Mayor's Walk: The Bay Head Museum Walk
Wednesday, July 19th at 9:00am
Meet at the New Jersey Museum of Boating, Bay Ave. Walk or ride your bike to tour the NJ Museum of Boating, Vintage Automobile Museum of NJ and Loveland Homestead Museum.
The Annual General Meeting of the Bay Head Historical Society
Saturday, July 22nd at 10:00am
Location: Bay Head Borough Hall, 2nd floor Council Meeting Room, Patricia H. Burke will speak about Gerard Hardenbergh.
Three Museum Day Open House
Saturday, August 5th from 1:00 - 4:00pm
Visit Loveland Homestead Museum, Vintage Automobile Museum of New Jersey and the New Jersey Museum of Boating... refreshment will be served.
Victorian Christmas
November 18th - December 17th, Fridays & Saturdays, 1:00 - 4:00pm
Location: Loveland Homestead Museum
Member Christmas Party
Sunday, December 3rd
Click here to see our past exhibition posters.